RE/MAX Excellence Commercial Division is excited to relocate our award-winning commercial team to SouthTrail Plaza in January 2023, with future planned relocation to EVER Square in 2024. The establishment of a new place within the shared office at EVER Real Estate Developments is in line with our goal to support knowledge, collaboration, and performance through an exclusively commercial environment.
Synergies with EVER RED
RE/MAX Excellence Commercial Division has benefited from leadership with an acute lens and active participation in the real estate market. Sam Narayan, Owner and Associate Broker at RE/MAX Excellence, is also the Partner & President at EVER RED. As a proprietor with in-depth understanding of the real estate landscape, he lends connections and insights to the commercial team.
Between the two companies, staff are aligned in the projects and directions and provide crossover support where their strengths are advantageous. In marketing, transactions, and administration, CRE knowledge goes a long way. These advantages will be maximized with the centralization of commercial business.
"We empower agents to be independently successful and carve their own path. Real estate is a relationship-based business, and while the brokerage provides support and oversight, deals are made by our associates. We respect the work they do, they grind, and they deserve this upgrade to their workplace which will help secure business and conduct business efficiently," said Don Patterson, Manager Partner & Broker.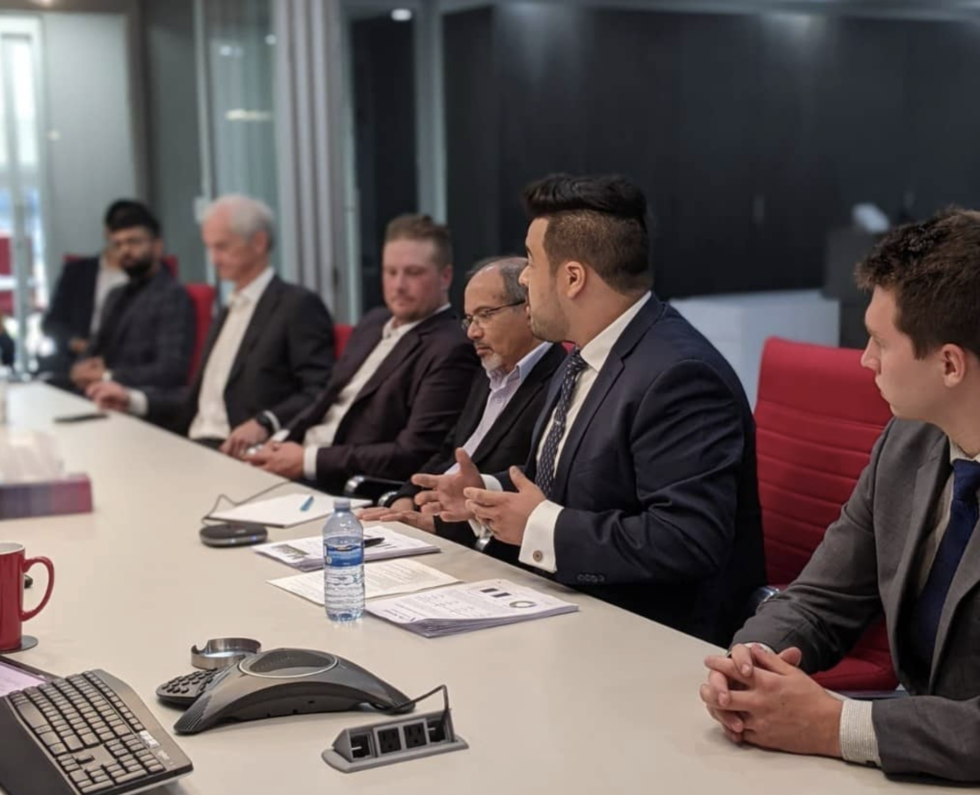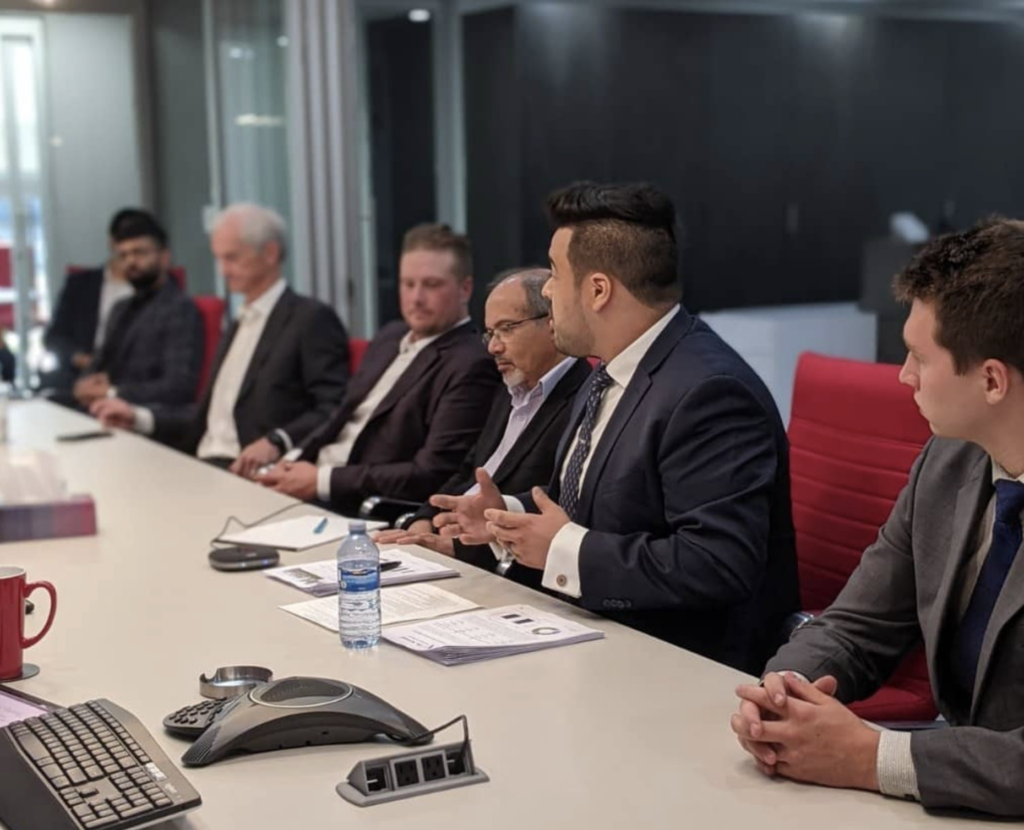 Prominent Location on the Gateway to Edmonton
The current office space in SouthTrail Plaza is ideally situated 15 minutes from downtown, and 15 minutes from the Edmonton International Airport. The central location allows for convenient in-person meetings and connectivity to clients across the city.
Across the street, EVER Square is currently under construction with substantial completion scheduled in 2024.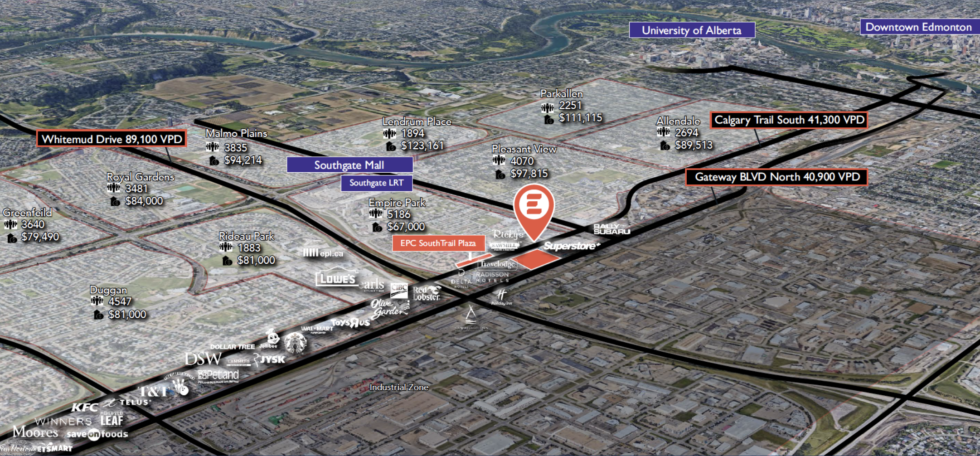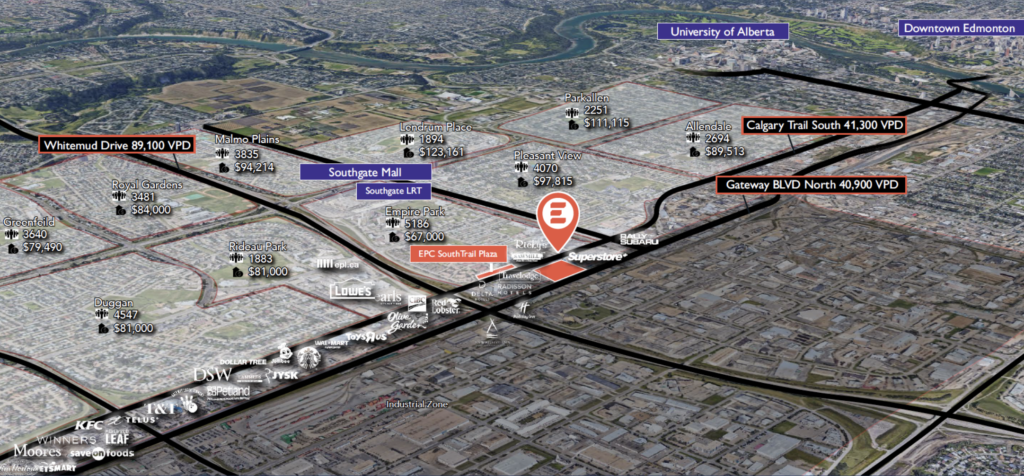 The location is on one of Edmonton's highest-profile corridors, seeing over 82,000 VPD past the site (2018). Within 300 meters, Whitemud drive sees commuter traffic of 89,100 VPD. The retail corridor is home to well-established and nationally recognized brands; RE/MAX Excellence Commercial Division among those with building signage within a few short years.
In addition to the professional tower, the site will include three national drive-thrus, multiple restaurants, medical users, convenience services, and a lubrication shop.
Brand New Professional Space
RE/MAX Excellence Commercial Division joins EVER RED in a new office space that has only been occupied for two years. The modern, professional space features multiple meeting rooms and private office spaces with floor-to-ceiling windows.
The future office at EVER Square will be located on the top floor of the tower at EVER Square, offering panoramic views of Edmonton, heated underground parking and a secured indoor/outdoor rooftop terrace.
The future office of EVER RED and RE/MAX Excellence Commercial Division is being designed with consideration for the workplace mix. Associates and employees will not only have offices on the top floor, but they will also share the common rooftop terrace and lounge with other building occupants, including Fillmore Construction, a national real estate firm, an accounting firm, and medical specialty users.