RE/MAX Excellence Commercial Division has been recognized within the RE/MAX network, as the top commercial team in the world in 2021.*
The Annual R4 RE/MAX Convention in Las Vegas, Nevada recognizes the top realtors, teams, and special awards recipients for RE/MAX agents globally. On March 3, 2022, over 2,500 of RE/MAX's top realtors and teams attended the Best of RE/MAX Awards Night, where RE/MAX Excellence Commercial Division was recognized and received the #1 RE/MAX Commercial Team Worldwide (for large teams). This year's global ranking for the top five include: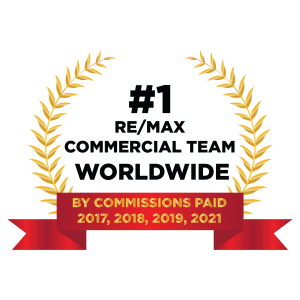 The success in 2021 marks the 5th consecutive year RE/MAX Excellence Commercial Division achieved the title of the #1 Commercial Team in Canada, and the 4th year being globally recognized as the top team since 2017. A new milestone award was also celebrated, as the team joined the "Pinnacle Club".
"This is truly a testament to our associate's passion and persistence in the past year. On behalf of our brokerage, we would like to congratulate each of our commercial associates and staff for this tremendous achievement," said Don Patterson, Manager Partner / Broker.
The team is responsible for significant transactions as outlined in Notable Transactions of 2021, and currently has 20 Commercial Associates.
When considering the success of the commercial team globally, the accomplishment demonstrates just how active RE/MAX Commercial is in the Edmonton market. RE/MAX Commercial maintains a strong market presence and is highly competitive against exclusively commercial firms in this region. "Congratulations to all of our award winners across Canada," says Christopher Alexander, President of RE/MAX Canada. "This has been an unprecedented year for the real estate market across the country and it is an honour to recognize the accomplishments of so many high-performing individuals and teams in the Canadian network."
RE/MAX Excellence Commercial Division is strengthened by a diverse and highly motivated team. Agents maintain independent clientele, prospecting and networking systems, analytical, negotiating, and problem-solving skills; collectively, they are supported by knowledge sharing, market data reports, and marketing programs provided by the brokerage. Each agent's productivity and dedication to their craft contributed to the accomplishment of this achievement.
"Our agents are highly knowledgeable in their respective markets; I think this is their greatest competitive edge. I also see them as having high integrity – working with clients of diverse backgrounds, business acumen, and knowledge levels, and treating each person with respect and professionalism. This is a quality that sets our agents apart, it earns them business and respect," said Sam Narayan, Associate Broker & Team Lead.
*based on sales and leasing commissions on commercial transactions in 2021.